Hana Size Guide
Hana Size Guide
Xero Shoes first SHOE will not fit quite the same as normal shoes, but should be relatively similar to Xero sandals. 
By following the instructions below, you'll get the correct fit for your Hana's.
NOTE: Please follow these instructions to avoid ordering problems
2 Simple Steps to the Correct Fit
1) Measure your foot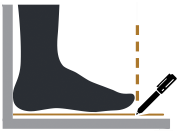 Place a piece of paper against a wall (if you have VERY large feet, use a piece of newspaper.
Place your foot on the paper, with your heel against the wall.
Make a mark on the paper at the furthest point away from the wall… this will either be just in front of your big toe or second toe
Take a ruler and measure from the edge of the paper to the mark you made.
Here's a video showing the process
2. Check your measurement against the charts, below
If you seem to be "between" sizes, we recommend choosing the larger size.
NOTE: The width of the Hana is approximately EE width, some people have experienced stretching in the canvas upper to slightly wider.
Hana Sizing Guide
Foot Length
inches
Foot Length
millimeters
Men's Size
Up to 9 9/16″
Up to 244mm
6.5
Up to 9 3/4″
Up to 248mm
7
Up to 9 7/8″
Up to 252mm
7.5
Up to 10 1/16″
Up to 256mm
8
Up to 10 3/16″
Up to 260mm
8.5
Up to 10 3/8″
Up to 264mm
9
Up to 10 1/2″
Up to 268mm
9.5
Up to 10 11/16″
Up to 272mm
10
Up to 10 13/16″
Up to 276mm
10.5
Up to 11″
Up to 280mm
11
Up to 11 1/8″
Up to 284mm
11.5
Up to 11 5/16″
Up to 288mm
12
Up to 11 5/8″
Up to 296mm
13