Lena Size Guide
Lena Size Guide
Get the right size for your Lena
Shoe sizing, especially online, is not a perfect process. That's why we have a free exchange policy.
Because the foot is three-dimensional, any two-dimensional measuring tool, such as a ruler or Brannock device®, can only approximate your true shoe size. Manufacturers model their shoes on different foot shapes, which is why you might be an 8 in one brand and a 9 in another.
The Lena fits "true-to-size" or a TINY bit small. So you'll probably be okay selecting your "usual" shoe size.
Sizing for a shoe is different than a sandal, so if you own one of our sandals, that doesn't mean you'll pick the same size in the Lena.
If you follow the sizing instructions, below, and think you're "between sizes," go up a 1/2 size.
NOTE: The width of the Lena is approximately EE width. Some people have experienced stretching in the canvas upper to slightly wider.
2 Simple Steps to the Correct Fit
1) Measure your foot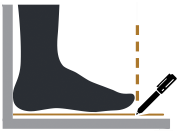 Place a piece of paper against a wall (if you have VERY large feet, use a piece of newspaper
If you plan to wear socks with your Lenas, put those on
Place your foot on the paper, with your heel against the wall
Make a mark on the paper at the furthest point away from the wall… this will either be just in front of your big toe or second toe
Take a ruler and measure from the edge of the paper to the mark you made.
Here's a video showing the process
2. Check your measurement against the chart, below
Lena Sizing Guide
Foot Length
inches
Foot Length
millimeters
Women's Size
Up to 8 1/2″
Up to 218mm
5
Up to 8 5/8″
Up to 222mm
5.5
Up to 8 3/4″
Up to 226mm
6
Up to 9″
Up to 230mm
6.5
Up to 9 1/8″
Up to 234mm
7
Up to 9 1/4″
Up to 238mm
7.5
Up to 9 1/2″
Up to 242mm
8
Up to 9 5/8″
Up to 246mm
8.5
Up to 9 3/4″
Up to 250mm
9
Up to 10″
Up to 254mm
9.5
Up to 10 1/8″
Up to 258mm
10
Up to 10 1/4″
Up to 262mm
10.5
Up to 10 1/2″
Up to 266mm
11