Sizing for the Xero Venture/Cloud/Genesis
3 Simple Steps to the Correct Fit for Xero Huarache Sandals
1) Measure your foot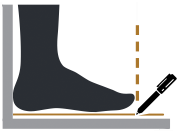 Place a piece of paper against a wall (if you have VERY large feet, use a piece of newspaper.
Place your foot on the paper, with your heel against the wall.
Make a mark on the paper at the furthest point away from the wall… this will either be just in front of your big toe or second toe
Take a ruler and measure from the edge of the paper to the mark you made.
2. Check your measurement against the chart, below
This will give you a good idea of your size… but PLEASE follow the next step whenever possible.
3. Verify the correct fit by printing the Huarache size template and comparing it to your foot
Note: Make sure you print the templates at Actual Size (100% Scale). Here's a video showing how to use the Template: