by Hannah Robbins
May 24, 2023
Feet, Gait & More! Workshop
Feet, Gait & More! Workshop
Upcoming Workshop: November 26th
Curious to explore the anatomy of the foot, and the rest of our lower limbs? Join us for this 2 hour workshop to investigate bodily connections and movement patterns related both to how we walk and to other daily activities.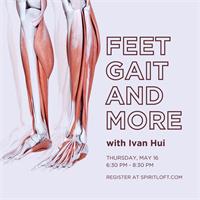 We will explore:
Joints in the feet and how they impact movement in our lower limbs

Mobilizing and strengthening the feet, encouraging elasticity for walking and other pursuits

The connection of the lower body to our hips and core

Gait - the way we walk, and whole body movement patterns to restore efficiency
When: Sunday November 26 - 1pm to 3pm
Where: Spirit Loft Movement Centre - 290 Carlaw Ave. Unit 201, 2nd Floor
Cost: $40 + tax
Sign up by registering on the Spirit Loft Mindbody site.
About our guest instructor:
Ivan Hui is the owner of Cool East Market, a retail store in Toronto dedicated to minimal footwear. He has a lifelong interest in movement and athletics, and enjoys sharing knowledge about anatomy and biomechanics. He is a graduate of Spirit Loft's inaugural Embodied Arts Teacher Training in 2018 - and applies an interdisciplinary approach to his own personal practice and learning. Ivan is dedicated to facilitating positive explorations of health, and he strongly believes that each person's journey is unique.
Check out Spirit Loft's other movement offerings!
Know someone who might be interested? Learning together reinforces lessons and friendships, so go ahead and share this blog post :)